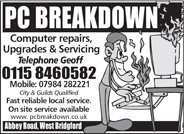 Looking After Your Computer...
Top 5 Computer Issues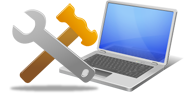 Update Your Files and Programs

Keeping your computer up to date is extremely important as most viruses attack out of date system files and programs. Read this guide on the basics of keeping up to date.
PC or Laptop Won't Load


The most urget of repairs! When your computer does not load or start all form of worries about losing files, folders, music, photo's enter your head. In this case, the likely cause could be something physical that has broken, or corruption to your computer via a virus or malware.

The most important thing to initially carry out is the rescue of all important files. We are told time and time again to back up, but alas it's easy to forget. If you have a complete computer failure please call and we will discuss how to best get it fixed. It is also a situation where it's likely the machine will need to be taken away for repair at a fully tooled workstation with data back up facilities.