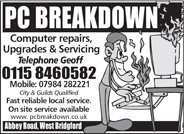 Looking After Your Computer...
Top 5 Computer Issues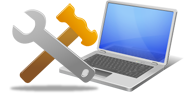 Update Your Files and Programs

Keeping your computer up to date is extremely important as most viruses attack out of date system files and programs. Read this guide on the basics of keeping up to date.
Computer Keeps Crashing


There can be a number of factors which result in laptops and PC's crashing intermittantly, sometimes there may be no rhyme or reason as to how long between these crashes. The cause of the problem could be software related or it could be something that is physically breaking down such as a hard drive or RAM.

Overheating can also cause crashes, as all computers will shut themselves down if they get too hot to prevent damage. Unfortunately this system will not prevent damage in the long term if a machine has repeatedly turned itself off over a period of time it can result in motherboard failure.

The likeliest causes of blue screen crashes or complete shut downs are:



Virus or malware infections
Conflict between installed programs
Corrupt windows files/registry
Failing RAM
Failing hard drive
Failing power supply
Computer overheating


If you are experiencing periodic or constant shut downs, it is a problem that needs to be looked at without delay.