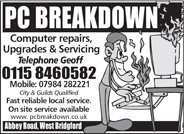 Looking After Your Computer...
Top 5 Computer Issues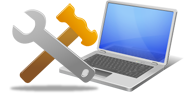 Update Your Files and Programs

Keeping your computer up to date is extremely important as most viruses attack out of date system files and programs. Read this guide on the basics of keeping up to date.
Laptop Screen Replacement


Unfortunately a common problem is broken screens on laptops, this can be caused in a number of ways. It is actually in most models a relatively straightforward job to replace. The cost of new screens can vary, depending on size and availability, however quite often a second hand screen can be purchased on Ebay to make a significant saving.

If you require a new screen, you should expect 7 days for the repair unless it is a common screen that can be purchased locally. In order to get the correct screen, the existing broken one must be removed to ensure compatibility, then a suitable one is usually purchased from Ebay (new or used) and fitting can be done same day once it has arrived.