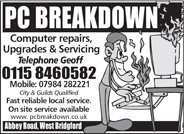 Looking After Your Computer...
Top 5 Computer Issues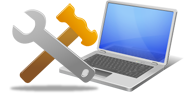 Update Your Files and Programs

Keeping your computer up to date is extremely important as most viruses attack out of date system files and programs. Read this guide on the basics of keeping up to date.
Contact Us

Please feel free to contact us on 0115 8460582 or alternatively on mobile 07984 282221. If using email, please be sure to provide both your email and telephone number for me to get back to you as soon as possible. I'll be happy to offer advice and discuss any issues your having. In the majority of cases I will be able to diagnose the likely cause of problems over the telephone. Please feel free to call or email at anytime.